Quik-Therm 936 Connect - Includes Vapour, Thermal and Air Control Layers. Installs With a Framing Nailer

Please Note
The Technical Data, Code Compliance, and Application Instructions for 936 Connect found under Technical Downloads are living, work in progress documents. 936 Connect is arguably the most technologically advanced wall weatherization system in North America. 936 achieves NBCC compliance. Technical updates will be added as they become available. Thank you for your interest in the composite 936 Connect Wall Weatherization System.
For more information contact ted@quiktherm.com
Focusing on Performance
When Quik-Therm entered into the insulation industry, it's primary focus wasn't to create better insulation products – it was to develop physics based, high performance, low cost, multifunctional, weatherization systems that would require fewer components.
Since then we have been fortunate to work and collaborate with many of North America's finest Building Science organizations. Quik-Therm has conducted approximately 65 ASTM standard test procedures – including 30+ C1363 effective R-value wall assembly tests and multiple hygrothermal analysis, structural and wall drainage and drying tests.
No Poly.   No Exterior Sheathing.   No House-Wrap.
Code Compliant.
Investing in Building Science
As a consequence of our investment in building science, testing and research, Quik-Therm has developed a composite, high tech, low cost, wall weatherization system that incorporates the vapour, thermal and air control layers and structure. In one application, a framing nailer fastens and hermetically seals the 2" thick 936 composite panels to 2×4 wood framed walls.  The system is developed for homes, low rise wood frame buildings and modular construction.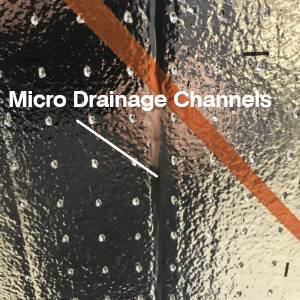 Best Practice Window Installation
Lower Cost. Installs Faster. Better Performance.
Achieves 30%+ Superior Effective R-value Performance vs. Conventional 2×6 walls.
Virtually NO Thermal Bridging.
NBCC Compliant.
No Poly. No Exterior Sheathing. No House-Wrap.
Similar or Lower Material Costs vs. 2×6 Walls
Installs Fast.