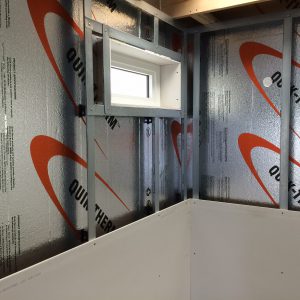 Fiberglass batts, poly and wood studs is still the most common method of insulating basement walls in Canada – but it's definitely not the most effective way to insulate the interior side of basement walls. Just like a blotter, batt insulation products absorb and hold moisture – which in-turn provides the perfect environment for mold growth. Not only is batt insulation a health hazard when installed in basements, it's a lousy insulator when it absorbs moisture. The government of Canada claims it's debatable whether fiberglass insulation has any insulating ability at all when it gets wet.
So what is the best way to insulate basement walls in Canada? In the last decade more and more Canadians have chosen foam insulation for their basements. The beauty of foam for basement walls is; – closed cell foam insulation does not absorb moisture and therefore will not contribute to mold growth. Secondly, when installed directly onto basement walls, foam provides a continuous layer of insulation without cracks and crevices. Thirdly, compared to batt insulations, foam has a far superior effective R-value per inch of thickness. Lastly, and maybe most importantly, at two inches or thicker, closed cell foam insulations qualify as vapour and air barriers. Therefore no poly, staples or awful black gunk is required.
Let's look at the various ways and methods of utilizing foam insulation in basements. We'll start with rigid foam sheets. Expanded Polystyrene (EPS) and Extruded Polystyrene (XPS) are the most commonly used rigid foam insulations. They are available in 2' x 8' and 4' x 8' sheets and come in a variety of thickness and densities and can be installed on either the inside or outside of basement foundation walls. Using rigid foam on the outside is more costly than insulating on the inside and protecting it from damage during installation and back filling can be a problem. Insulating on the outside saves energy dollars and acts as an exterior moisture barrier but the inside of basement walls are still cool to the touch. Consequently, when people insulate from the outside, they often end up doing some insulation on the inside as well – and that's Ok. You can never have too much insulation in a basement, as long as it's closed cell foam.
Insulating basement walls from the inside can be done utilizing several different types of foam products. Spray foam insulates well and has become very common. Spray foam is a high-performance insulator. It's also an air and vapour barrier, however, spray foam must be installed properly under the right conditions or bad things can happen. Installed improperly spray foam can off gas powerful odors and toxins that can make you and/or your family very sick. Spray foam is a great insulator but there are risks. If you go with spray foam, make sure you hire an experienced and qualified company with a proven track record. If you're building new, ICF (Insulated Concrete Forms) are a popular choice. ICF's have high effective R-values and are mold and mildew resistant but if you're on tight budget the cost of ICF is about 20% to 40% more expensive than conventional methods of framing and insulating.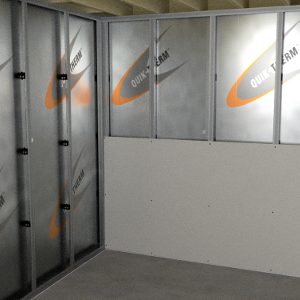 Rigid foam panels are also a good way to insulate on the inside of concrete basement walls. Depending on thickness and the type of foam you choose, super high effective R-values can be achieved. One disadvantage of rigid foam is – for it to be effective, it must be attached directly to the wall using adhesive or IDP foam insulation anchors. Here's the problem. Basement walls are rarely plumb (perfectly vertical). This means, to plumb and level the drywall, alternate wood or steel framing must be installed in front of the foam insulation. This adds additional cost for labour; plus it reduces the useable floor square footage of your basement.
Recently, new innovative and high-performance basement insulation systems have been introduced. For the most part, these systems are all-in-one solutions. They include, framing, insulation and some even include drywall. Unfortunately, most of these basement insulation systems are awkward, complex to install and expensive – except one. The Quik-Therm CIS (Basement Concrete Insulation System) is low cost and provides arguably the highest effective R-value per inch of thickness. Its fast and easy to install, by just about anybody. Any foam insulation works well in basements – but don't do batt and studs!
Plain and simple, if you plan to use your basement for added living space and you want it to be comfortable, healthy and energy-efficient, you definitely want to insulate the walls with foam. Warm basement walls and energy savings go hand in hand. You save money on your utility bills and keep comfortable and healthy at the same time. It's a win – win! One last thing. If possible, the framing, like the insulation should be resistant to moisture, mildew and mold. Steel studs are a much better choice than wood studs.
Because of its lower cost and ease of installation and superior comfort the most common place to insulate basements walls will continue to be on the inside. Let's take an objective look at the pros and cons of the various methods of insulating the inside of basement walls in Canada.
The following Table covers the most common methods of insulating the inside of basement walls in cold climates like Canada.
| | | | | |
| --- | --- | --- | --- | --- |
| Insulation Method | Quik-Therm CIS | Spray Foam & Studs | Rigid Foam  & Studs | Batt & Studs |
| DIY – Fast & Easy to Install | Yes | Contractor Only | Reasonable | Complex |
| Dry, Warm and Comfortable | Yes | Yes | Yes | No |
| Healthy & Mold Resistant / Non Toxic | Yes | Yes – if installed properly | Yes | No |
| Energy Efficient / High Effective R-Value | Yes | Yes | Depends on Thickness | No |
| Cold Climate Tested by Certified Laboratories | Yes | No | No | No |
| Framing Included / Plumbs Walls | Yes | No | No | No |
| Delivered to Your Door | Yes | No | No | No |
| Price | Low to Reasonable | Expensive | Reasonable to Expensive | Cheap but high labour cost |
In conclusion, it's important to look at all levels of a home when trying to maximize its energy efficiency. The days of cold, dark, and damp basements are in the past. Today's homes utilize every square inch of space, including the basement. Protect your investment and your family by choosing the best method of insulation that is long-lasting, safe, easy to install and environmentally responsible. Learn more about the best and most cost effective system for insulating basement walls.