Paradise Estates is located in West Kelowna, BC, and will consist of 21 multi-million dollar homes.  While being situated on the beachfront of Okanagan Lake, the gated community includes amenities such as a swimming pool with waterslide, putting green, outdoor fireplace, and an entertainment area.  Each home will have its own elevator with access to the rooftop patio including a hot tub, high end appliances, luxurious finishes and interior detailing, wireless sound system, and (my personal favourite) a large temperature controlled wine room – a showpiece unto itself.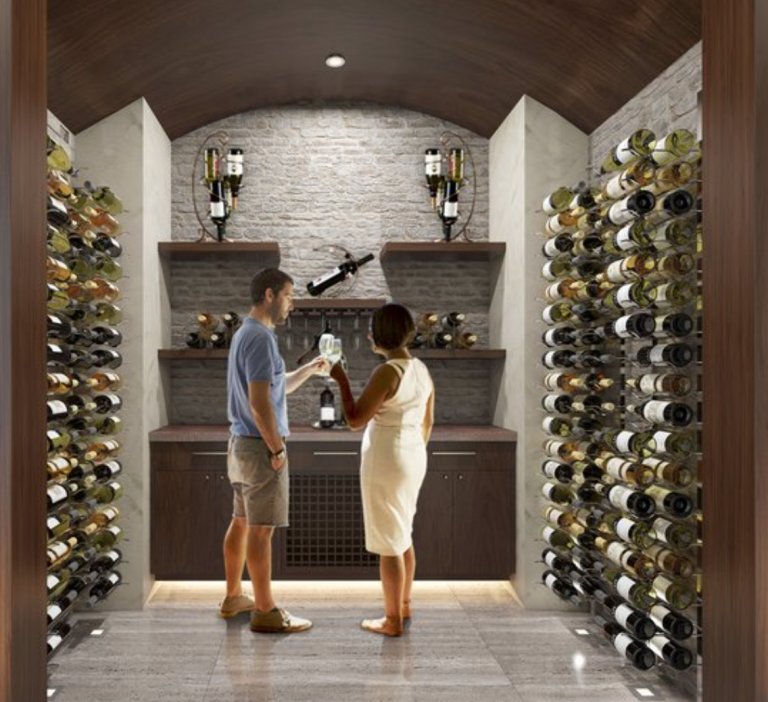 While many people notice the exterior aesthetics and relatively superficial aspects of a building, it gives great piece of mind knowing the high-performance construction inside the walls.  Paradise Estates has chosen to use a 2″ layer of Quik-Therm Connect overtop of their 2×6″ batt filled steel stud frame.  Since using batt fill in a steel stud wall is not effective and loses roughly 70% of its insulation value, an exterior layer of Connect rigid insulation (with the built-in plywood strapping) creates an essential thermal break before such losses can occur.  This way, the Connect provides continuous exterior insulation, while simultaneously helping the steel studs and batt cavity fill perform much more effectively.
Initially the plans had called for horizontal Z-girts every 2 feet, with rigid board insulation placed in between.  This creates the same problems as steel studs and batts, in that conduction of the steel significantly lowers the insulation value of the wall.  Furthermore, the Z-girts would be in contact with the steel studs behind, creating even more thermal bridging and energy loss.  Such is not the case with Quik-Therm Connect.
Using Z-girts and rigid insulation in between is also quite labour intensive.  With Paraside Estates (and other similar developments), everything that they do is literally times 21.  Any additional costs to a building will be added 21 times for all the homes in total.  In the same light, any cost savings will be found 21 fold.  Quik-Therm Connect comes in one 4×8′ sheet, with the strapping already embedded into the insulation every 16″ (also available in 24″), combining multiple steps into one.  Time is money and the quicker you can install your products the more savings there will be.
Find more information about the development at http://www.paradiseestates.ca.