Quik-Therm has been an exhibitor at Buildex Vancouver for the past few years.  We really don't spend much money on conventional advertising, and opt to invest where we have more direct contact with our prospects and clients.  Since our products aren't just commodities, sometimes it takes a bit more understanding and education to explain how our products are used in construction.  There are a variety of different benefits, applications, cost savings, and building science behind the innovations of Quik-Therm products.  Much of this is difficult to convey in, for example, a magazine advertisement.  Instead, we choose to talk one on one directly with those involved with insulation.  Trade shows have consistently been a way we like to connect with people.
We have always had great passion and interest for our products.  It's exciting showcasing something that someone hasn't seen before, and them sharing our same enthusiasm.  I have heard multiple times over, 'I wish I would have known about the product a couple months ago.'  They quickly realize that we could have saved them money and time while creating better performance and longevity.  Good thing we are able to help them with their future projects.
We have been involved with many Passive House projects, and as such decide to become a member of Passive House Canada.  This is where the future is heading, and there is no way around it with the enactment of the Energy Step Code, aiming to making buildings net zero by 2032.  The final step to get there is making all building meet the Passive House standard.
This year is the first year we decided to move from a regular booth at Buildex to the Passive House Pavilion – a group of nearly 20 exhibitors showcasing products aimed at helping architects and builders meet the Passive House standard.  Instead of having a small 4'x4′ wall profile with 2″ of our exterior insulation, we invested a significant amount of time and energy into building a large 'hut' showing 3 walls, a floor, and a roof.  It includes detailing for windows, cladding, air and vapour barriers, and other components to show how it would look in a real life Passive House project.  We also increased the insulation to 6″ thickness everywhere.  Take a look at the end result: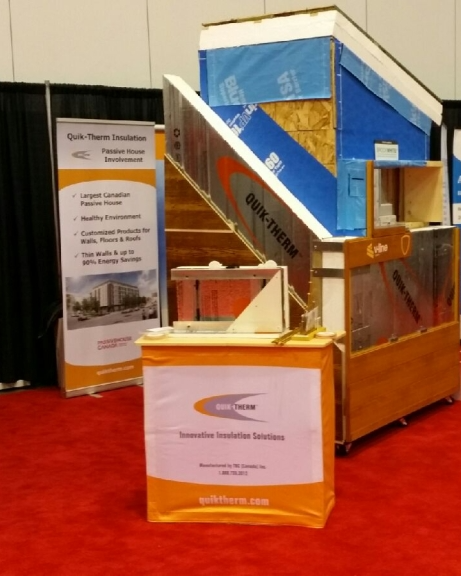 I knew that it would be quite a spectacle and catch people's eyes, however I was surprised at just how much traffic and interest there was.  I do have to admit, it's hard to walk by such a display and not stop to stare at what is going on.  And there is quite a bit going on.  It was sort of amusing from my point of view seeing people stop to study the wall profile, noticing them deep in thought while the gears in their mind are turning.
One of the walls displayed 6″ Solar Dry Insulation, which allows exterior breathability, grooves for aligning rainscreen strapping, all while providing increased thermal performance and compressive strength over exterior mineral wool.
Another utilized 6″ Connect, which has embedded wood inserts at 16″ or 24″ on centre.  This makes it easy to fasten to the substrate, and then material can be fastened overtop to the same wood insert.  This is ideal for projects not requiring a rain screen, or claddings that have a built-in rain screen (such as AL13, Hardie and Ceraclad).  The Connect is also showcased for roof and floor applications.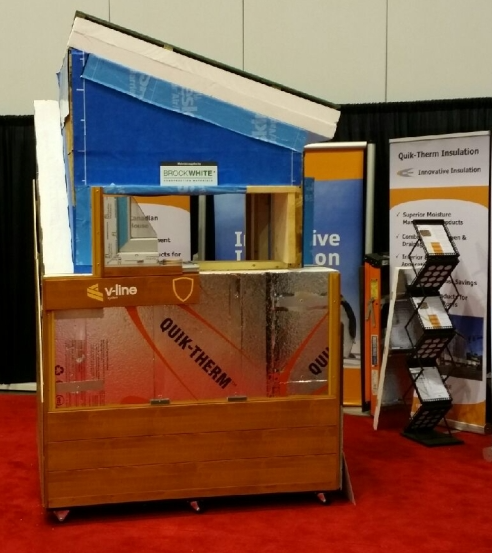 While not all builders have integrated exterior insulation into their projects, there is going to be a time within the next 5 years (if not sooner) where they will essentially be forced to.  Other options will simply be inefficient and costly.  We can manufacture our products in a variety of thicknesses, and using a layer of just 2″ on the exterior provides immense benefits.
There is such an array of different background of people coming to the Buildex show.  From architects to general contractors, building officials and engineers, university students and energy advisors, developers and simply home owners as well, everybody comes to the show and is interested in insulation from a different point of view.  We can tailor to all, whether you are looking to integrate Quik-Therm into your next Passive House multi-family building, to a small renovation, or simply just education on building science, come one come all to Quik-Therm's world of Innovative Insulation Solutions! We provide the best passive house insulation!