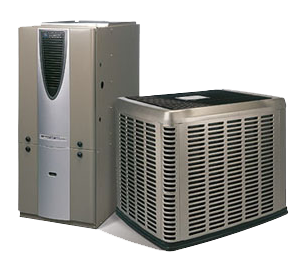 Did you know oversized HVAC systems combined with inadequate insulation increase heating & cooling costs significantly.  Insulation should be specified before HVAC equipment; otherwise you end up purchasing more capacity than required.  Bottom line; if you install an oversized HVAC system it will operate at lower efficiencies than it was designed for.
Adding Quik-Therm insulation does more than reduce the amount of energy required for heating and cooling your home or building.  Quik-Therm also reduces the demand your HVAC equipment will need during extreme winter and summer weather.  Quik-Therm insulation reduces energy costs and wear on HVAC equipment.
For the most part, people do not understand that over sizing furnaces and air conditioners make them less efficient than smaller, properly sized systems.  The smart approach to bringing your home to peak efficiency and comfort levels is to insulate right and then have your HVAC contractor calculate your home's heating and cooling loads.  In other words, insulate with Quik-Therm first, then install the right sized HVAC system.
5 REASONS TO INSULATE WITH QUIK-THERM
1.  REDUCE UP FRONT CONSTRUCTION COSTS
Quik-Therm insulation equals lower construction costs. Adding Quik-Therm Insulation is less expensive than an oversized HVAC system; and Quik-Therm will never require maintenance.
2.  COMFORT
One of the main reasons for overestimating the size of the HVAC system is homeowner comfort. However, do oversized HVAC systems make building occupants more comfortable? The answer is no! In conjunction with Quik-Therm insulation a proper sized HVAC system will operate efficiently, with the right amount of capacity, air flow, rate of air mixing and humidity.
3.  SAVE ENERGY $$$'s
This one is easy. The more oversized the HVAC system, the more it will cost to operate and maintain. Utilizing Quik-Therm insulation combined with the proper sized HVAC systems SAVES energy dollars.
4.  INCREASE THE VALUE OF YOUR HOME OR BUILDING
The trend toward better energy performance in homes and buildings isn't going away. Bottom line; Green – energy efficient homes and buildings sell for more.
5.  SUPPORT CLIMATE CHANGE
Buildings insulated with Quik-Therm insulation with proper sized HVAC systems emit fewer ozone depleting emissions.