Throughout Canada there are various financial rebates and incentives offered for increasing the energy efficiency of buildings.  Grants can be administered via Federal Government, Provincial Government, and utility companies.  Some programs have been intermittent, but British Columbia has been consistently offering and improving incentives to get homeowners to upgrade the efficiency of their homes.
In BC, the current retrofit grants fall under the LiveSmart BC moniker.  Here is a list of the current incentives available: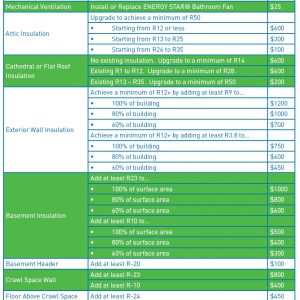 Many homeowners have claimed full rebates on exterior walls by using the QuikTherm Connect.  Others have used the Concrete Insulation System for basement insulation rebates.
Additional pilot programs are being set in place by BC Hydro and Fortis BC.  These make upgrading home performance easier and more efficient for each homeowner.
Here is a list of the current pilot programs:
1. Energy Coaches
Assess your current home and provide recommendations and suggestions to reduce energy bills
Prioritizes upgrades that will make the largest difference to your personal home
Helps facilitate energy rebates
2. Energy Diet
Reduced cost for home assessment on energy use
Free upgraded lightbulbs, low flow shower heads, and other products
Options for Renovation upgrades
3. Comprehensive Bonus
Extra incentive when upgrading insulation and 2 other criteria (air sealing, heat pump..)
Provides additional $750 in the Okanagan, $1500 in East Kootenays
4. On bill Financing
Loans for up to $10,000 at 4.5% available
Repaid monthly on utility bill
With all these different programs available at the homeowners' fingertips, not only are we reducing our environmental footprint on the planet, but saving money on bills in the process.
Insulation is perhaps the largest energy saver.  No matter how efficient your heating and cooling systems are, without the proper insulation there is a huge amount of ongoing lost energy (and money).  In addition, fiberglass significantly loses its insulating efficacy over time.
Perhaps it's time for you to have an energy advisor assess your home and see how it is actually performing.  Feel free to contact BC Hydro, Fortis, Total Home Solutions (Certified Energy Advisors), or Quik-Therm representatives to discuss how you can save money on your bills while received grants back to do so.