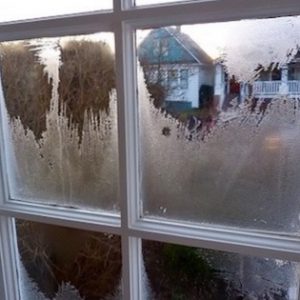 Let's face it, insulating on top of existing concrete floors is an after thought. If we knew then, what we know now, we would have installed insulation under the concrete before it was poured. So the question is; after the fact what is the best way to insulate the top side of existing concrete and basement floors? The answer is; it depends on the condition of the floor. Is the floor dry, that's a good thing. Is it damp, or worse yet, is it wet? Is the floor level or uneven? Whats the ceiling height and what is the basement to be used for; added living space or storage? If the concrete floor is dry and reasonably level, insulate directly on top with a rigid foam insulation that is impervious to moisture, air leakage and radon gas.
If the basement floor is wet, hire a professional, find the source of the problem and fix it before doing anything. If you can't afford to fix the problem or don't want to invest the money do not insulate the floor! For that matter, don't do anything. Nothing good will come from insulating on top of a wet basement floor. If the floor is damp but not wet, find out what's causing the dampness. It may be, and generally is, a humidity issue. It's probably as simple as warm moist air coming in contact with the colder concrete floor. If this is the cause, condensation/dampness will be apparent but not problematic.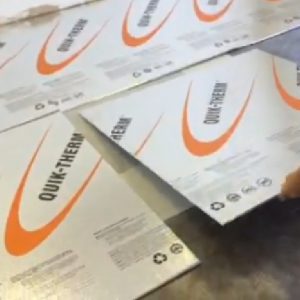 Here's the best part; insulating the top side of concrete floors with an impervious high density rigid foam insulation like Quik-Therm Warm Floor will resolve most condensation problems. Why; because with Quik-Therm Warm Floor the top of Warm Floor is warm. Regardless of the humidity level (within reason) warm moist air and warm surfaces are not conducive to condensation. Here's a simple comparison. Blowing on a cold window in the winter produces condensation, frost or ice on the glass. Blowing on the same window in the summertime produces little or no condensation.
If the basement floor is uneven, one of the simplest ways to level it, is sand. Yes, that's right, sand! Sand is a great leveler. Another way of leveling concrete floors is using a slurry type of concrete mix. There are many types of slurry concrete products available. Once the floor is leveled, Warm Floor can be installed directly on top of the floor. On top of Warm Floor install a rigid finished flooring, such as engineered flooring or laminate. For basements, only floor materials that are moisture resistant should be installed. Because they are adversely affected by moisture, carpet and natural wood flooring, sub floors that contain wood should be avoided in basements. However, if you insist on having these types of flooring, install a rigid plywood subfloor on top of Quik-Therm Warm Floor.
Quik-Therm Warm Floor Features and Highlights
Increases the comfort of concrete floors by up to 7 degrees
Less than 1/2″ thick / minimal loss of head room
4′ x4′ panels / fast and easy to install
Handles heavy loads – up to 4,000 lbs.
Vapour and air barrier
Code compliant radon barrier when the joints are taped and edges are sealed to concrete walls
Flexible and durable